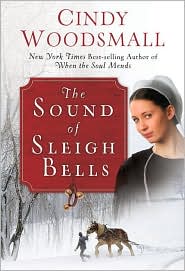 The Sound of Sleigh
Bells is another wonderful story about a group of Amish by Cindy Woodsmall. This story is about Beth Hertzler and a past tragedy that seems to haunt her daily. To her friends and family, she seems to still be in mourning, but instead she holds on to guilt related to the loss of her fiancée.
Beth works with her Aunt Lizzy and is a very good businesswoman. When she is out trying to find stores to sell the Amish goods, she comes across a beautiful carving that touches something deep in her heart. Can she move past the hurts and pain of what's behind her to find healing and hope in the future? With a little push from her Aunt Lizzy and understanding from an Amish carver… she just might!
Cindy Woodsmall has painted another lovely tale about the hurts we feel, whether self-inflicted or not, that we sometimes can't seem to get past. With a little encouragement and guidance from the ones that love us and a lot of love from above, there is hope. If you enjoy books about the Amish, this is another good one!!

Author Bio:
Cindy Woodsmall is the author of When the Heart Cries, When the Morning Comes, and The New York Times Best-Seller When the Soul Mends. Her ability to authentically capture the heart of her characters comes from her real-life connections with Amish Mennonite and Old Order Amish families. A mother of three sons and two daughters-in-law, Cindy lives in Georgia with her husband of thirty-one years.