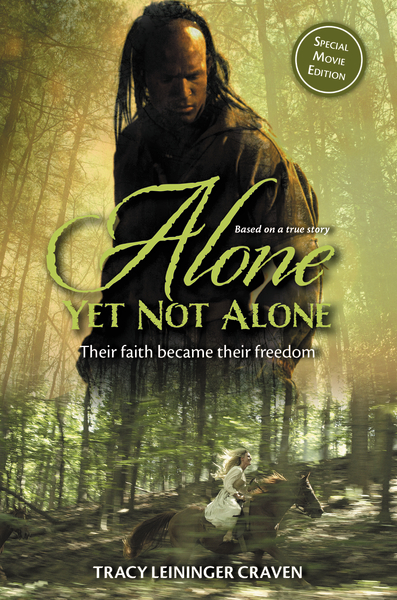 About Alone Yet Not Alone (novelization):
Settled in the Blue Mountains of Pennsylvania, deep within America's new frontier, the Leininger family celebrates the blessings of a beautiful homestead and bountiful harvest. That is, until tragedy strikes with the beginning of the French and Indian War and the devastating raid known as the Penn's Creek Massacre.
The lives of this simple, God-fearing family are forever altered when Barbara and Regina, two young sisters, are carried away by the Delaware tribe. Driven by their faith in God and the powerful bonds of family, Barbara and Regina hold firmly to the belief that they are never alone, even in their darkest hour, and that they will be reunited again.
Rich in historical details, Alone Yet Not Alone is an inspirational, true story of a family caught in the cross fire of the French and Indian War.
Tracy Leininger Craven loves history and retelling real-life stories in her historical fiction books. She also loves spending her free time in the great outdoors with her husband David and their four children.
My Take:
When I received Alone Yet Not Alone by Tracy Leininger Craven, I really wasn't sure what to expect. Sure, I had read the About Alone Yet Not Alone summary (above), but that doesn't really tell you what to expect as far as the writing.
The Leininger family left Germany to have a home they could call their own. In Germany, they had worked hard and toiled someone else's land to make a living. They struggled to make ends meet. Now, in America, they have a small, but cozy home, a good piece of land and bountiful harvest. Then, one day, two Indians attack. Mother and John are gone, Christian and Father are killed and Regina and Barbara are taken hostage. Alone Yet Not Alone tells the story of Barbara and Regina's fight to survive their lives with Indians and keep their faith.
It is a great story of faith, family and survival. It is well written and a great book for kids and adults alike.
About Alone Yet Not Alone (THE MOVIE):
Families will love this film based on a true story! Awarded 5 Doves from the Dove Foundation!
Starring:
Kelly Greyson, Natalie Racoosin, Clay Walker, Jenn Gotzon, Joanie Stewart, Ozzie Torres, Tony Wade.
If you are interested in winning a copy of Alone Yet Not Alone, please enter via the Rafflecopter form below: